Alright, I have been following everyone getting organized, but have been unable to participate since our house has been turned upside down during our living room remodel. But this was one of the challenges that I could actually get to- number 16 in the: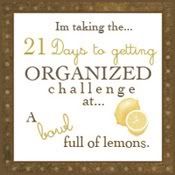 #16 is cleaning out and organizing the fridge...which I was in desperate need of doing. Here's how it went...
This was my fridge before...tons of old leftovers, and some questionable fruits and veggies in the bottom bins. We normally have quite a bit more stuff in there, but since we are remodeling we haven't eaten much at home this past week or so. Also notice there are some expired eggs, and a few condiments as well.
It doesn't look too awful, but it was MUCH worse in person...note the doors where the condiments were. Not to mention, there was some strange orange stain under the left bottom drawer that I didn't photograph.
Here's after she (yes, the fridge is a she!) has been scrubbed and dried with a towel. MUCH better!
And here's everything back in it. Looks like someone needs to go grocery shopping! Also, the door doesn't really look organized, but I promise that there is a method to my madness.
Anyone else have a messy fridge?!